More than 6 million Americans are living with Alzheimer's disease – a leading cause of death in the United States. Additionally, more than 11 million family members and friends provide care to people living with Alzheimer's and other dementias. In North Carolina alone, there are more than 180,000 people living with the disease and 358,000 caregivers.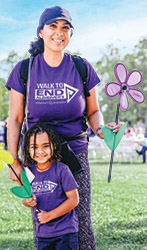 The Alzheimer's Association works hard to meet the challenges of those who are living with the disease, family members, and caregivers by funding critical research and support services. Every year, you have the chance to help support their efforts and honor those who are in the fight with the Walk to End Alzheimer's.
Executive Director Lisa Roberts detailed the walk, and her personal journey to get involved with Lora. Listen here!
This year, they return to the North Carolina Museum of Art October 9th! That means you can join in solidarity in-person or virtually. Before the walk, plant a "flower" in their Promise Garden. The colors of the Promise Garden flowers represent people's connection to Alzheimer's — their personal reasons to end the disease.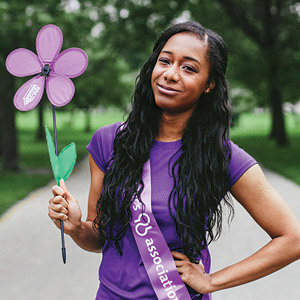 Of course, safety is top priority … so here's a few things the Alzheimer's Association is doing to help:
All of our Walks will implement safety protocols including physical distancing, contactless registration, hand sanitizing stations and more.
Masks are welcome and will be available on-site.
The Alzheimer's Association will continue to closely monitor Centers for Disease Control and Prevention (CDC), state and local guidelines to ensure Walk events adhere to recommendations and are safe for attendees.
For those attending the in-person event, Check-in opens at 9 a.m. with an Opening Ceremony at 10 a.m., but the Walk route will open at check-in time to allow teams to start walking when they are ready.
Those who prefer to walk from home can still engage in many Walk-day experiences through the Alzheimer's Association's website and mobile app before walking on any sidewalk, track or trail.
Participants will be able to view an Opening and Promise Garden Ceremony in the mobile app. This provides those who are walking in their neighborhood with an opportunity to experience the ceremony without attending the event.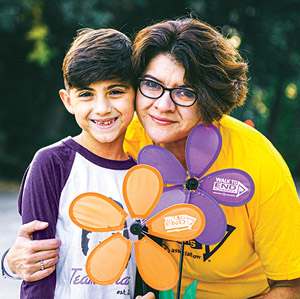 So where do you start? Click Here to start your free registration and get more details. You'll also receive instructions on how to create a Facebook fundraiser for friends and family. If you're not able to walk and you know someone who is, you can also simply donate. Add your flower to the fight to end Alzheimer's!